Parkinson's Disease is a very serious issue.
I came across a paper titled "MECHANISMS AND THERAPEUTIC APPLICATIONS OF ELECTROMAGNETIC THERAPY IN PARKINSON'S DISEASE"
---
The article was written by:
Maria Vadalà, Annamaria Vallelunga, Lucia Palmieri, Beniamino Palmieri, Julio Cesar Morales‐Medina and Tommaso Iannitti
---
The Curatron 2000 3D with the 1600 Gauss Butterfly Coil is recommended for Parkinson's Disease treatment by Curatronic.
ABSTRACT
Electromagnetic therapy is a non-invasive and safe approach for the management of several pathological conditions including neurodegenerative diseases. Parkinson's disease is a neurodegenerative pathology caused by abnormal degeneration of dopaminergic neurons in the ventral tegmental area and substantia nigra pars compacta in the midbrain resulting in damage to the basal ganglia. Electromagnetic therapy has been extensively used in the clinical setting in the form of transcranial magnetic stimulation, repetitive transcranial magnetic stimulation, high-frequency transcranial magnetic stimulation and pulsed electromagnetic field therapy which can also be used in the domestic setting. In this review, we discuss the mechanisms and therapeutic applications of electromagnetic therapy to alleviate motor and non-motor deficits that characterize Parkinson's disease.
CLICK ON THE IMAGE BELOW TO READ THE ARTICLE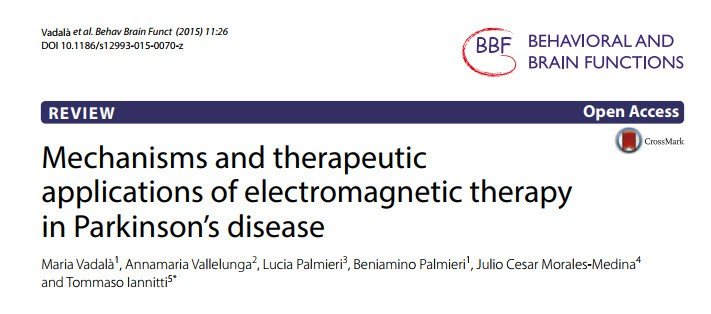 You can read the entire paper by clicking here >> Mechanisms-and-therapeutic-applications-of-electromagnetic-therapy-in-Parkinson's-disease