The Curatron 2000 XP is our Professional System and/or The Advanced Home System.
See https://curatron.com/curatron-family-of-products/curatron-2000-xp-and-xpse/ for details on our Curatron 2000 XP

The Curatron 2000 XP comes with a Control Box (Photo Below) which is used with various applicators either sold with the unit or purchased separately.
The available applicators/options include:
Pricing and details can be found at http://www.curatron.com/prices/
20″ x 28″ Therapy Pad (30 mT or 300 Gauss)
26″ x 71″ Full Mattress (10 mT or 100 Gauss)
8″ x 8″ High Energy Coil "A" (45 m T or 450 Gauss)
8″ x 8″ Very High Energy Coil "B" (70 mT or 700 Gauss)
Switch (Can connect two applicators to the switch and one switch between applicators or in some modes use two applicators at once.
The XP is the base system for the Curatron 2000PC. At time of purchase of an XP the customer can choose to ask us to install the communiation/control board to allow connection with a PC later on. See http://www.curatron.com/prices/ for information on the XP-Upgrade.
The Curatron 2000XP is the most popular Curatron model for health care professionals and home care therapy for discerning individuals. It is based on state-of-the-art technology generating Frequency Modulated Pulsed Electromagnetic Fields (PEMF). These fields are completely safe and give no side effects.
Improved blood supply increases the oxygen pressure, activating and regenerating cells. Optimal peripheral oxygenation is obtained by this professional, high-energy system, resulting in maximum therapy efficacy.
The Curatron 2000XP model excels in fast pain reduction and has proven to be enormously beneficial even for chronic pain therapy.
Fibromyalgia patients report almost instantaneous pain relief!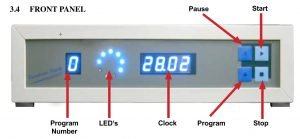 Improved calcium transport increases absorption of calcium in bones and improves the quality of cartilage in joints, decreasing pain dramatically. A substantial increase in bone density is obtained, which in turn decreases fracture risk. Bone growth is stimulated causing fractured bones to heal properly.
This technology has undergone many scientific clinical trials worldwide. Tens of thousands of patients have been treated successfully with Curatron systems. A very high success percentage is reported, creating dramatic improvement in quality of life.
The Curatron 2000XP is the only economical priced computerized therapy device, which uses frequency modulated pulsed electromagnetic field technology and generates sufficient energy in combination with very fast speed of induction to obtain a real therapeutic effect.
10 Different therapy programs are readily available, allowing for the best possible individual automatic parameter settings for the diseases as indicated above.
The pulsed electromagnetic fields are applied to the body by means of multiple flat coils located inside a therapy pad. The therapy pad is placed at the area to be treated and is hooked up to the Curatron unit via a flexible cable.
The controls of the Curatron system are very user-friendly and simple to operate. Select a program number and press the Start button and the complete therapy will be performed automatically, under full control of the built-in computer.
After the therapy time is over, the energy switches itself off and the unit goes in standby mode. Therapy can be undergone safely while relaxing or sleeping.