PEMFSCHOOL Blog and PEMF School

Welcome to our Blog and Website built and maintained by Chris Cane of Amjo Corp in support of Amjo Corp's sales of The Curatron 2000 and Curatron FLASH systems.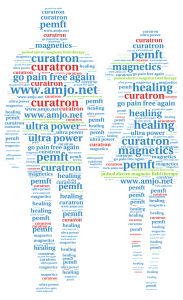 Our typical customer is an individual or a clinician seeking help with pain relief and well-being for himself or his/her patient or client.
Without question, the Curatron is the world's most effective PEMFT or PEMF System. Its square wave gated sinusoidal waveform makes this system truly unique. The sine wave is the most accepted waveform for PEMFT and maximum energy transfer to our bodies, controlling it with a square wave permits the fastest rate of rise or speed of induction in the industry. . Since its development and conception late in the last millennium the Curatron 2000 has seen enhancement and improvement every year.
One of our most recent developments has been the introduction of the Curatron 2000 3D with magnetic flux density levels of 1600 Gauss with the new Butterfly Coil. The term Butterfly Coil refers to the shape of the internal structure. The butterfly shape is a result of two intersecting coils which as you might guess give the appearance of a butterfly.
This website/blog has been created and maintained by Chris Cane. Our company Amjo Corp has been selling the Curatron 2000 since April of 2000. The track record has been exemplary as a result of the Curatron's quality and outstanding performance.